Tasting: Thursday, Oct 26, RESCHEDULED Thursday, Nov. 2, 2023 4:00–6:00pm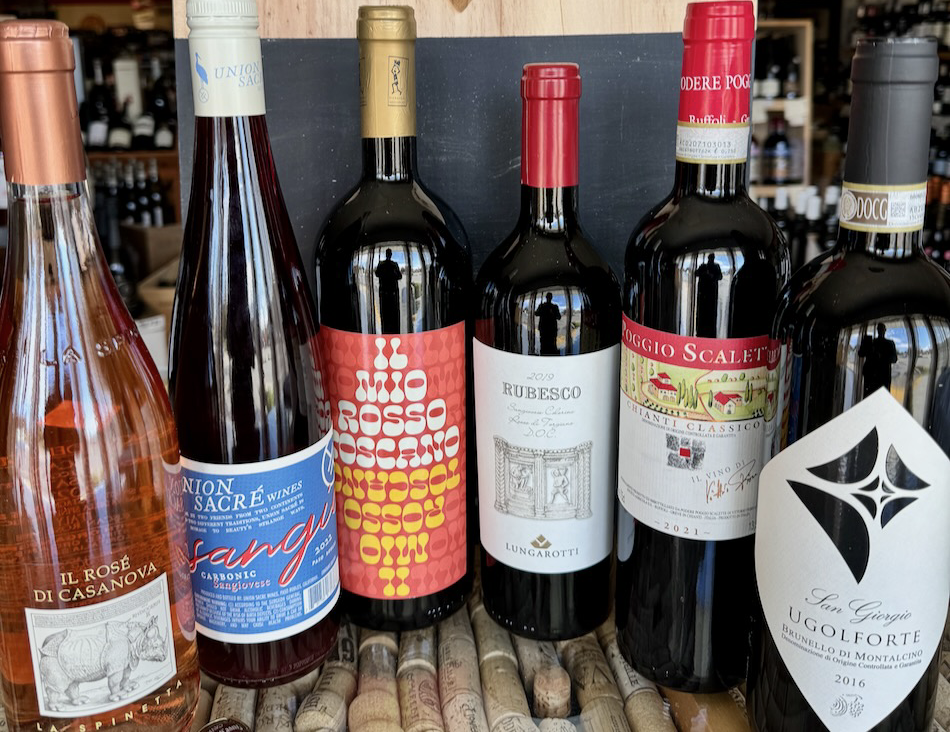 This outstanding varietal is the most widely planted grape in Italy and has many variations in both name and style. A few clonal variations or different names for the same grape: Brunello or Sangiovese Grosso is the name in Montalcino for about 6-8 various clonal varietals; Prugnolo Gentile in Vino Nobile di Montepulciano; Morellino in the Maremma; Nielluccio in Corsica (France). We could not exhaust the range of wines this grape can produce in just one tasting but we will try six different expressions with one from California to remind us that Sangiovese is grown around the world.
La Spinetta Il Rose Di Casanova 2022 — 50% Sangiovese, 50% Prugnolo Gentile (See!? Both grapes are Sangiovese); Dried peaches and apricot offset by savory herbs wafts up from the 2022 Il Rosé di Casanova. It's zesty and wickedly fresh, with vibrant acidity and wild citrus notes that excite the senses. The 2022 finishes floral and crisp, showcasing nectarine hints. — $19.99
Union Sacre Carbonic Sangio 2022 — This Carbonic Sangiovese is juicy, fruity without being overly so, medium bodied and very smooth. Sangiovese sourced from San Juan Creek in Paso Robles. Serve this chilled!. A range of fruity and floral scents, including raspberry, cherry, and violets, with a hint of spice. — $22.99
Carbonic refers to "carbonic maceration", a red wine making process which transforms a small amount of sugar in grapes before they are crushed into ethanol with no added yeast. This technique produces lighter, fruity wines with enhanced aromas, and are meant to be drunk young. The technique, used in a wide range of wines, became widely associated with Beaujolais Nouveau which range from bubblegum fruity to more traditional tasting Gamay.
Il Mio Rosso Toscano  — 90% Sangiovese, 10% other, organic; A "private label" for Origen Selections Importers, the grapes see 10% carbonic maceration, and are fermented and aged in stainless steel and cement tanks. A lightly earthy, juicy trattoria style red with nice tannins and acidity, just great and it's a 1 liter bottle! — $19.99
Poggio Scalette Chianti Classico 2021 — Bright ruby red in color, and a slightly leaner style of Chianti with a lively bouquet of red fruits and blackberries with undertones of ripe cherries and pomegranate seeds. On the palate, the wine is fresh and fruit-forward with silky tannins that evolve throughout the finish — $17.99
Lungoratti Rubesco 2019 — 90% Sangiovese with Colorino from Torgiano DOC in Umbria; fermented in stainless steel and aged 1 year in cask and 1 year bottle after light filtration. A deep representation that reminds me of Montalcino with the tannic structure, brambly red and dark fruit, earth, pepper and sweet tobacco with leather and background of red and violet jam. Plenty of fine tannins. Benefits from breathing a while! — $16.99
San Giorgio Brunello di Montalcino 2016 — This was one of the better vintages in decades so I bought all that remained in Maine! Drinkable now but could cellar another 15 years. 100% Sangiovese aged 42mos in old Slovenian casks, then 12mos in bottle before release. Firmly structured, more sleek than dense thanks to great acidity, still robust but buoyant. Subtle scents of lavender, lilac and mint blossom with fresh, strong fruit tannins with loads of black cherry and earth, chocolate covered raspberry, tobacco and hints of anise. Finish is as pleasant as you expect! — $62.99 now $52.99